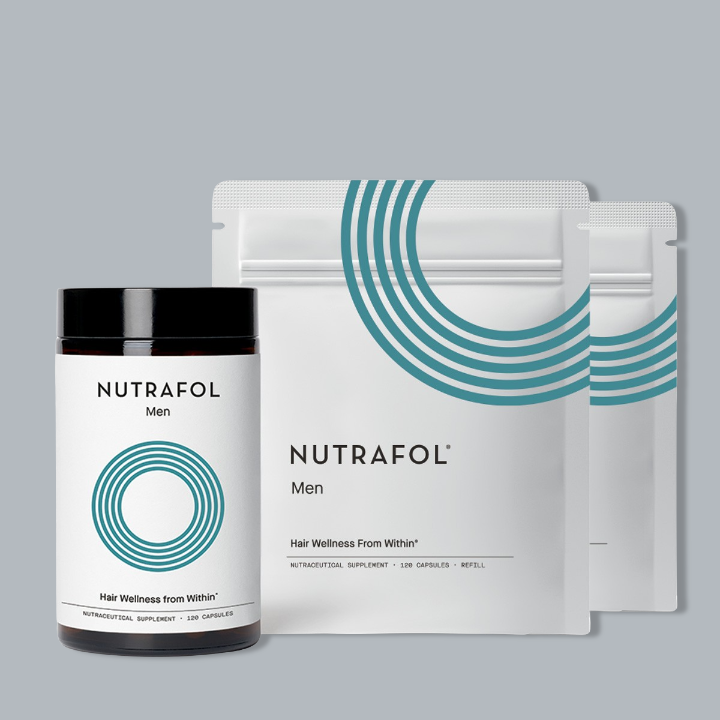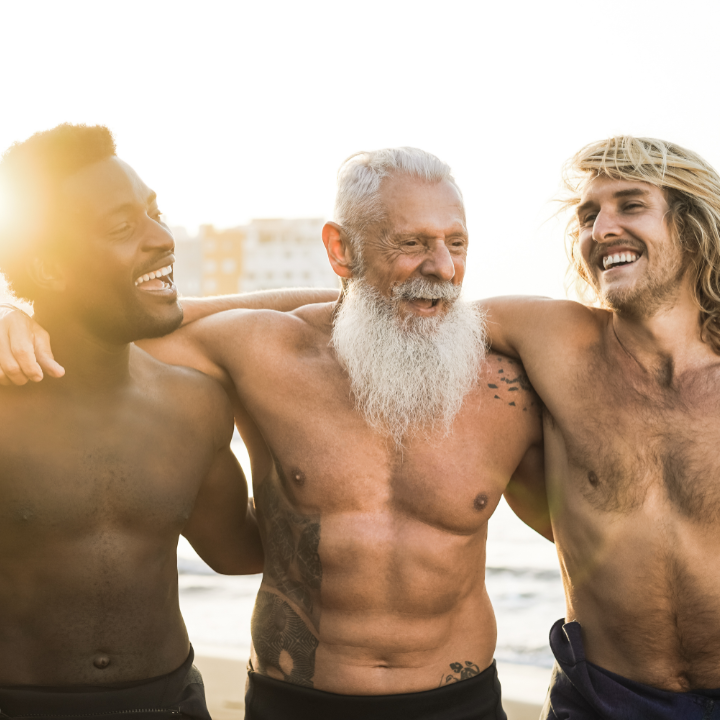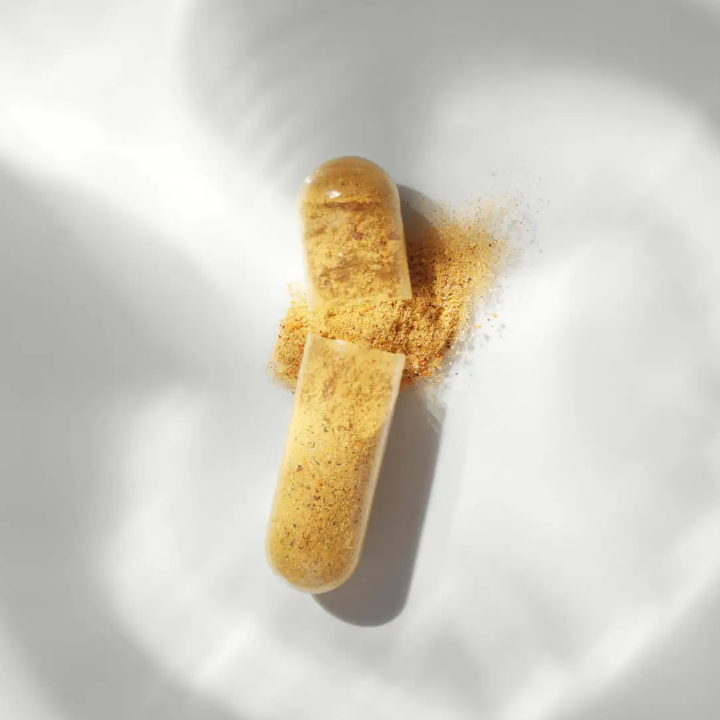 Nutrafol Men (3 Pack)
Pickup available at Collegeville
Usually ready in 24 hours
Collegeville
Pickup available, usually ready in 24 hours
534 2nd Ave.
Suite 101
Collegeville PA 19426
United States
+16105257800
Villanova
Pickup available, usually ready in 24 hours
775 East Lancaster Ave
Suite 200
Villanova PA 19085
United States
+16105257800
Get to the root of your hair woes (or just enhance an already healthy tresses) with Nutrafol, the #1 dermatologist-recommended hair growth supplement.  
Product Details 
Most hair health supplements focus on just one aspect of growing thicker, more luxurious locks. Nutrafol Men addresses ALL six root causes of thinning hair: hormones, stress, lifestyle, metabolism, aging and nutrition. Imbalances in the body can cause your hair to thin and recede–and can even activate genetic predisposition to thinning. Nutrafol's patented, drug-free technology effectively targets these root causes for visibly thicker, fuller hair and scalp coverage. And what's even better is that Nutrafol accomplishes all this, but doesn't impact sex drive like many supplements that moderate hormones. If you've noticed a slow decrease in hair volume at your crown or at your temples, or you have identified an overall increase in hair shedding, it might be time to consider adding in a supplement to your health care regimen. Alternatively, if you're faced with a genetic pre-disposition (check out your father and male grandparents) for male pattern hair loss, it is never too soon to start augmenting hair health to prevent future losses. 
 Benefits 
Fuller hair and scalp coverage

 

Visibly thicker hair volume

 

Hair that grows faster and stronger

 

Less stress & better sleep

 

Does not compromise sexual performance

 
Once daily, and with a meal, take 4 capsules of your Nutraceutical—an efficacious dosage that contributes to visible results in 3-6 months.
The Nutrafol brand is the # 1 doctor-recommended hair health supplement because it has done its research! In numerous clinical studies Nutrafol Men has proven to decrease the body's sensitivity to DHT, a hormone known to cause hair follicle shrinkage – which leads to progressive hair thinning. It also addresses intrinsic and acquired stressors that affect hair health. Physical and emotional stress, in addition to lifestyle choices like sweating, a poor diet, and alcohol consumption cause cortisol (a stress hormone) levels to be elevated, and Nutrafol is the only supplement that contains Sensoril® Ashwagandha to create balance and help build a resistance to stress. They also use Tocotrienol Complex, a concentrated form of Vitamin E (a super antioxidant), and Resveratrol to fight against environmental stress and improve hair density. As we age, our metabolism decreases on a cellular level, leaving our bodies with less energy to power healthy hair growth. The ingredients Curcumin and Kelp Minerals help battle inflammation and improve metabolism. Another joy of getting older is the steady decline in collagen production. Collagen peptides are the building blocks for strong hair fibers, and by replenishing your body's stores, Nutrafol encourages robust hair growth. Finally, Horsetail provides silica to promote hair strength and Keratin helps support damaged hair on a nutritional level.
Vegetable Cellulose Capsule, Organic Rice Hulls, North Atlantic Cod (Collagen)

SYNERGEN COMPLEX®: Saw Palmetto (Fruit) CO2 Extract (>45% Fatty Acids), Hydrolyzed Marine Collagen Type I & II, Sensoril® Ashwagandha (Root and Leaf) Extract (10% Withanolides), BCM-95® Bio-Curcumin Curcumin (Rhizome) Extract (95% Total Curcuminoid Comoplex), Fill Spectrum Palm Extract (20% Tocotrienol/Tocopherol Complex), Hyaluronic Acid

NUTRAFOL BLEND®: L-Cysteine, L-Lysine, L-Methionine, Horsetail (Stem and Leaf) Extract, Japanese Knotweed (Root) Extract (50% Reservatrol), Solubilized Keratin, Black Pepper (Fruit) Extract (95% Piperine), Capsicum (Fruit) Extract (2% Capsaicinoids)
Dr. Christine Stanko of Bryn Mawr Dermatology recommends following the simple sequence:

Cleanse. Treat. Moisturize. Protect. Repeat.

These steps will help resolve any issues your skin is experiencing and defend it against both the damaging assaults from outside your body - dirt, pollutants, UV exposure and pathogens like bacteria - and inside your body - pH imbalances, oil over/underproduction, overgrowth of your skin's natural flora, and the natural aging process.

To keep things simple, start the day using CLn Body wash in the shower to both your body and face. This will cleanse away acquired body oils and dirt. Next, treat yourself with Nutrafol Men supplement capsules alongside your balanced breakfast. This six-prong attack against hair loss is sure to support healthy hair growth and your self-esteem. If you aren't a fan of moisturizer or your skin tends towards oily, then the BMD Sheer Moisturizer is a perfect choice. It's lightweight and fragrance-free formulation is laced with aloe vera and green tea to soothe skin and leave your skin hydrated without feeling greasy. And finally, make sure to protect your skin every morning with an SPF of 30 or more - whether you plan to be outside or not! ISDIN has created a feather-weight sunscreen that not only protects you from the aging effects of the sun and skin cancer, but reverses the damage you have already accumulated. Repeat this regimen in the morning, and before you go to bed. Of course, you can skip the sunscreen at night.