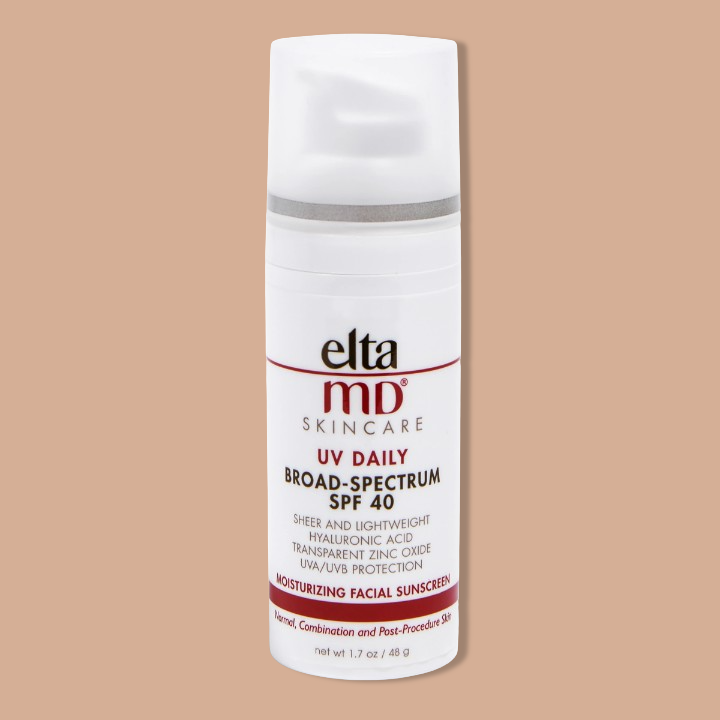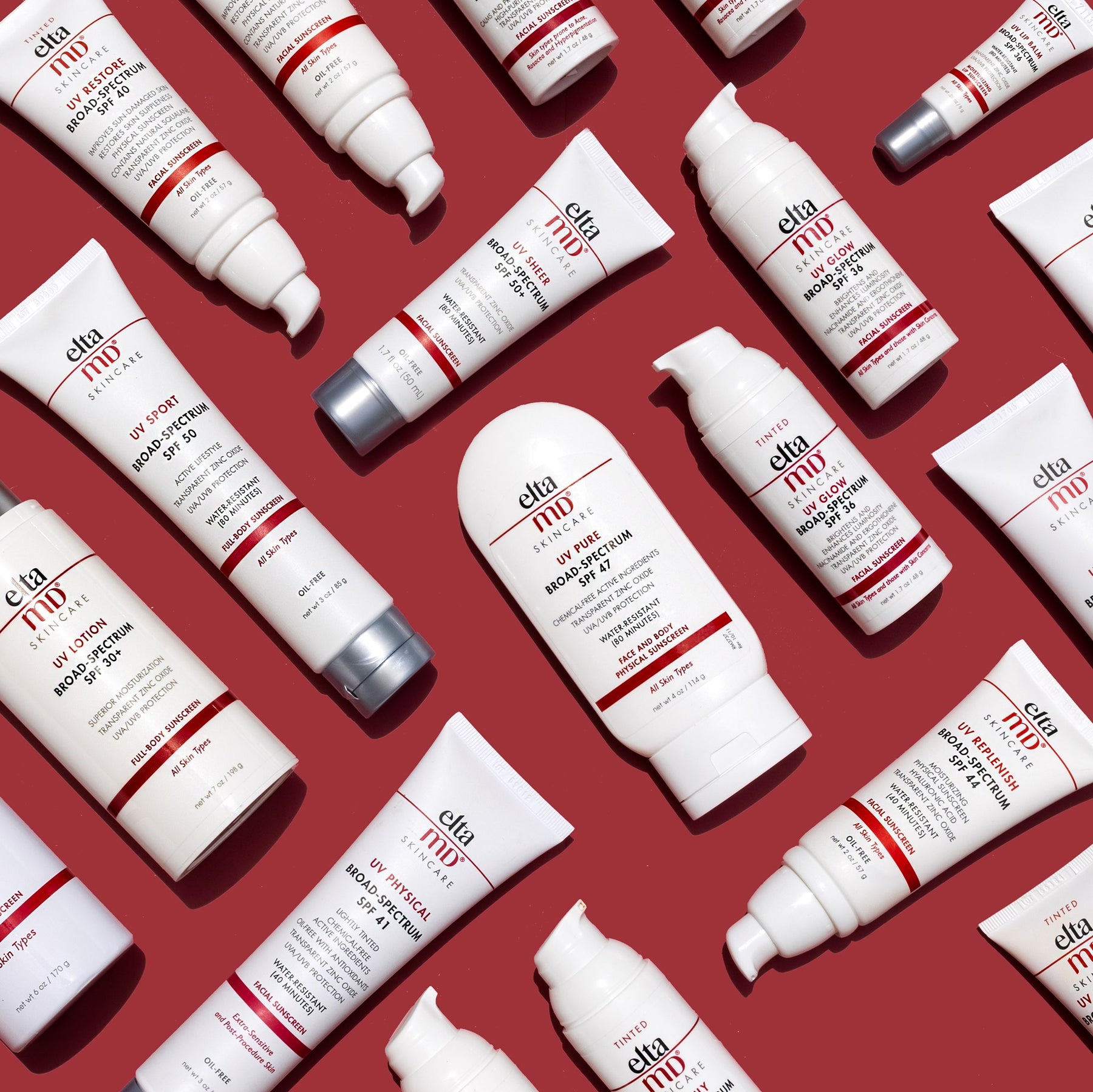 EltaMD UV Daily SPF 40
Pickup available at Villanova
Usually ready in 24 hours
Villanova
Pickup available, usually ready in 24 hours
775 East Lancaster Ave
Suite 200
Villanova PA 19085
United States
+16105257800
Serious UV protection and superior hydration join forces in this sheer facial sunscreen formulated for use every day. 
Product Details 
To make life simple, EltaMD created its Daily sunscreen. Calling it simply a sunscreen is selling it short. EltaMD Daily is really a moisturizer that plumps and hydrates skin, a UV shield that protects from harmful rays, and an anti-aging powerhouse that helps moderate the development of fine lines and wrinkles. It's a force to be reckoned with, and all packed into one small, air-pumped, bottle. Did we mention that it is a fan favorite of our patients from ages 25-65 because it doesn't cause breakouts and layers under other products and makeup like a dream? No matter your skin type, EltaMD Daily will seamlessly slide right into your daily skin care regimen. 
Benefits 

Gentle on skin

 

Moisturizer + Sun Protection

 

Micronized zinc leaves no purple haze

 

#1 Dermatologist Recommended SPF

 

Broad Spectrum Protection = defends against skin cancer & wrinkles

 

Hyaluronic Acid increases skin smoothness, softness and decrease wrinkles 

 

Made Without 

Fragrance

 

Parabens

 

Oil

 

Animal Products

 

Irritants

 
After cleansing, apply liberally to your face and neck at least 15 minutes before sun exposure and apply every 2 hours if you are getting continuous sun.

Sun Protection Measures. Spending time in the sun increases your risk of skin cancer and early skin aging. To decrease this risk, regularly use a sunscreen with a broad-spectrum SPF of 30 or higher and other sun protection measures including:

Limit time in the sun, especially from 10 a.m. – 2 p.m.

Wear long-sleeve shirts, pants, hats, and sunglasses
Every sunscreen you will find in the Bryn Mawr Dermatology store will have an SPF of at least 30. But what does that mean? Technically, Sun Protection Factor (SPF) is a measure of how much solar energy (UV radiation) is required to produce sunburn on protected skin (in the presence of sunscreen or UV protective clothing) relative to the amount of solar energy required to produce sunburn on unprotected skin. To translate, SPF is a measure of how well a sunscreen will protect your skin from the sun. The number before the SPF is an approximation of how much longer you can be in the sun without burning. Example: if your skin would normally burn after 10 minutes in the sun, after applying an SPF of 30 you would be protected from sunburn for 300 minutes (a factor of 30 times longer). This is a very rough estimate that depends of skin type, intensity of sunlight and amount of sunscreen used, and we never suggest being in the sun for 5 straight hours. EltaMD Daily gains its SPF of 40 due to a healthy dose of Zinc Oxide, which is a natural mineral compound that works to reflect and scatter UVA and UVB rays before they are able to penetrate and damage skin. To make it more than just a sunscreen, Elta added in Hyaluronic Acid to help your skin retain moisture and Vitamin E to fend off free radicals that cause visible signs of aging.
Active Ingredients: 9.0% Zinc oxide, 7.5% Octinoxate

Inactive Ingredients: Purified Water, Petrolatum, Isopropyl Palmitate, Cetearyl Glucoside, Dimethicone, Hydroxyethyl Acrylate, Sodium Acryloyldimethyl Taurate Copolymer, Polisobutene, PEG-7 Trimethylolpropane Coconut Ether, Sodium Hyaluronate, Tocopheryl Acetate, Polyether-1, Citric Acid, Oleth-3 Phosphate, Phenoxyethanol, Butylene Glycol, Iodopropynyl Butylcarbamate, Triethoxycaprylylsilane.
Dr. Christine Stanko of Bryn Mawr Dermatology recommends following the simple sequence:

Cleanse. Treat. Moisturize. Protect. Repeat.

These steps will help resolve any issues your skin is experiencing and defend it against both the damaging assaults from outside your body - dirt, pollutants, UV exposure and pathogens like bacteria - and inside your body - pH imbalances, oil over/underproduction, overgrowth of your skin's natural flora, and the natural aging process.

BMD's Gentle Antioxidant Cleanser is an ideal way to start and/or finish your day if you want your skin to feel squeaky clean, but avoid damaging the skin barrier. If you have oily or combination skin, or you are just looking for a low-maintenance skin care regimen, EltaMD's Daily can perform double-duty as moisturizer and protection from UV rays. The broad-spectrum defense is mighty, while it's gentle, hydrating base soothes and nourishes skin. To really give your skin a treat, you can throw a bottle of BMD's Antioxidant Mist in your bag to make sure you have ammunition at the ready to contend with a busy life on the go. Repeat this regimen every time you take a shower.