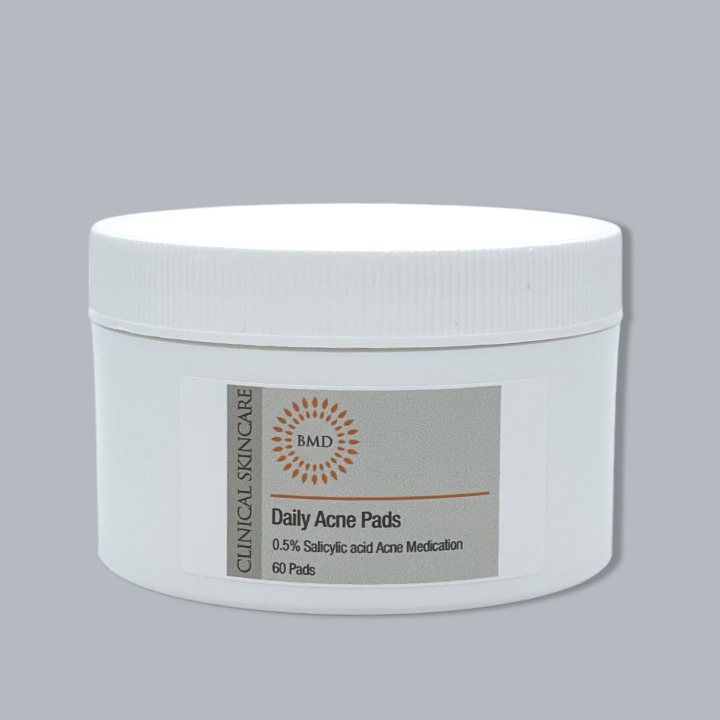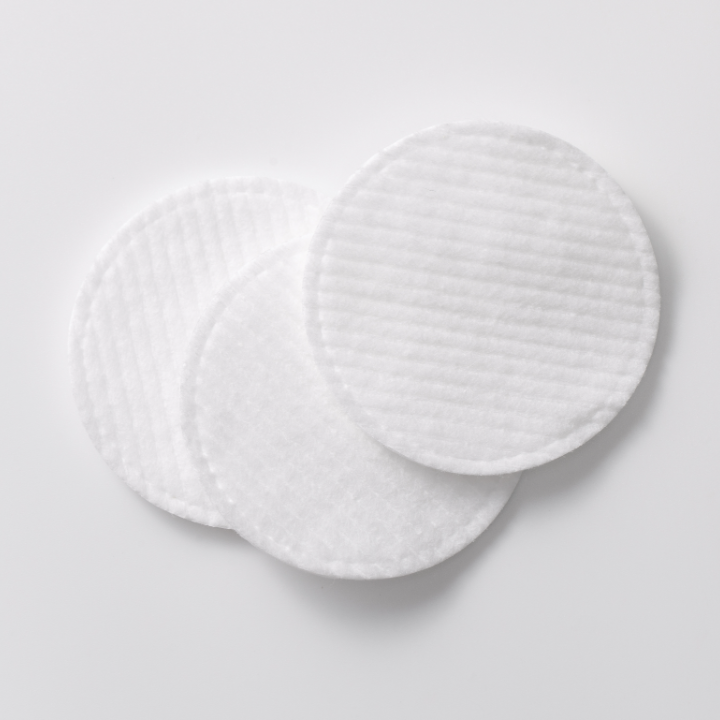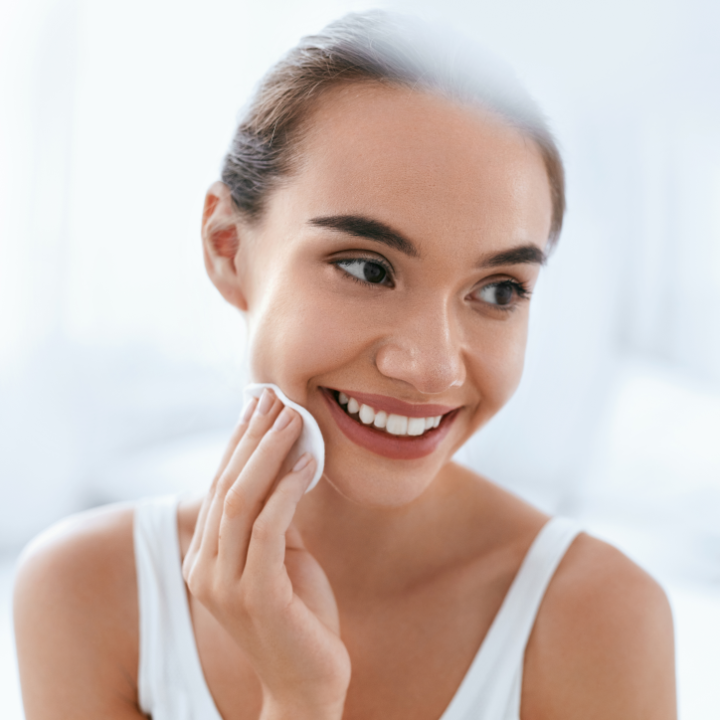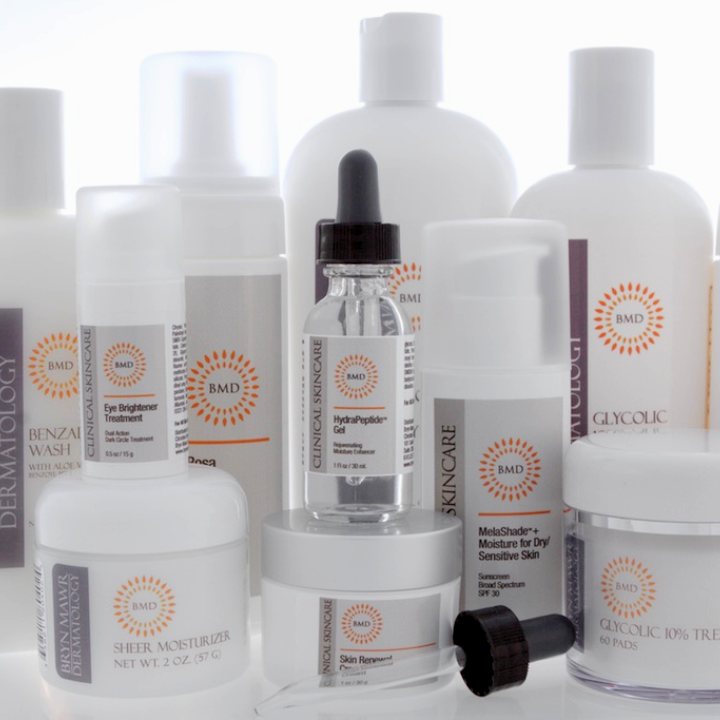 BMD Daily Acne Pads
Pickup available at Villanova
Usually ready in 24 hours
Villanova
Pickup available, usually ready in 24 hours
775 East Lancaster Ave
Suite 200
Villanova PA 19085
United States
+16105257800
Clean clear skin is just a swipe away!

Product Details
Acne is a sore spot for many of our patients, from pre-teens to women going through menopause. Breakouts can cause physical discomfort, tenderness, and swelling, all in addition to the psychosocial havoc they can wreak. Treating acne can be frustrating and time consuming because topical treatment results are based on regular use over six to eight weeks of use. One of the biggest hurdles we face is getting clients to be compliant with treatment, and using the BMD Daily Acne pads is one way we've found success. As the name suggests, these pre-soaked pads are designed to be used once a day, and can be worked into any portion of the patient's skin care regiment. They travel well and can be used on the face, neck, shoulder and back, depending on where the breakouts occur. A combination of glycolic, salicylic and lactic acids help destroy acne-causing bacteria and accelerate skin cell turnover to reduce the clogged pores, white heads, black heads, and inflammatory cysts. 
Benefits
Kills the acne causing bacteria Propionibacterium acnes

Gentle on skin

Reduces the irritation from breakouts

Controls folliculitis

Appropriate for most skin types except very sensitive

Easy to use
Throw the tub of these pads into your gym bag or keep them in your medicine cabinet. Either way, have them handy to wipe down your acne-prone parts when it is most convenient for you. Take one, pre-soaked, pad and swipe it gently on the skin that is struggling, avoiding sensitive areas like your eyes. The medication on the pads will transfer to your skin and the pad itself will wipe away the excess oils, grime, and excess skin cells that reside on the surface of your skin.
A natural derivative of sugarcane, glycolic acid is a colorless, odorless alpha-hydroxy-acid (AHA) that is a very common topical exfoliant used in endless skin care products. It is considered a mild acid, and due to its structure is stable at room temperature in liquid form. You find it commonly in lotions and potions designed to fight acne breakouts because it serves to kill the acne-causing bacteria p. acnes and causes the lipids that bind dead skin cells together to disintegrate in a process called desquamation. This results in the loosening and removal of the uppermost layer of skin cells which can aggregate and cause clogged pores. Want even better news? It's pregnancy safe. In addition to glycolic acid, these pads have both lactic (another mild AHA) and salicylic acid - an oil soluble molecule that can penetrate deep into oil glands and dissolve the buildup of sebum that accumulated there. This triple-threat of ingredients is sure to regulate oily and acne-prone skin.
Salicylic acid, 0.5%, Allantoin, Ammonium hydroxide, Boswellia Serrata Extract, Butylene glycol, Camellia oleifera (Green Tea) extract, Edetate disodium, Glycolic acid, Honey Extract, Lactic acid, Oligopeptide-10, Oryza Sativa (Rice) Bran Extract, Polysorbate 20, Purified water, SD Alcohol 40-B (20%) and Hamamelis virginiana (Witch Hazel) distillate.
Dr. Christine Stanko of Bryn Mawr Dermatology recommends following the simple sequence:
Cleanse. Treat. Moisturize. Protect. Repeat.
These steps will help resolve any issues your skin is experiencing and defend it against both the damaging assaults from outside your body - dirt, pollutants, UV exposure and pathogens like bacteria - and inside your body - pH imbalances, oil over/underproduction, overgrowth of your skin's natural flora, and the natural aging process.

BMD's Soothing Foamy Cleanser is the perfect first step for those who are struggling with skin that is both acne and redness-prone. Its penetrating, oxygen-rich formula physically washes away dirt, detritus and excess oils while soothing skin that is being treated with potentially-irritating exfoliators and degreasers. To treat skin, we recommend you follow up with BMD's Daily Acne pads. Just one swipe will deposit a hearty-but-safe dose of glycolic, salicylic and lactic acids that will instantly start fighting acne breakouts and can be incorporated into any skin care regimen in either the AM or PM. If your skin tends towards oily, then the BMD Sheer Moisturizer is a perfect choice. It's lightweight and fragrance free formulation is laced with aloe vera and green tea to soothe skin that leaves your skin hydrated without feeling greasy. And finally, make sure to protect your skin every morning with an SPF of 30 or more - whether you plan to be outside or not! EltaMD has created a broad-spectrum SPF that provides serious protection against the sun's harsh rays and comes in a tinted (matches any skin tone and provides just a touch of coverage) or non-tinted version. EltaMD Daily is the go-to sunscreen for anyone who wants to boost moisture retention while fighting fine lines and wrinkles. Repeat this regimen in the morning, and before you go to bed. Of course, you can skip the sunscreen at night.