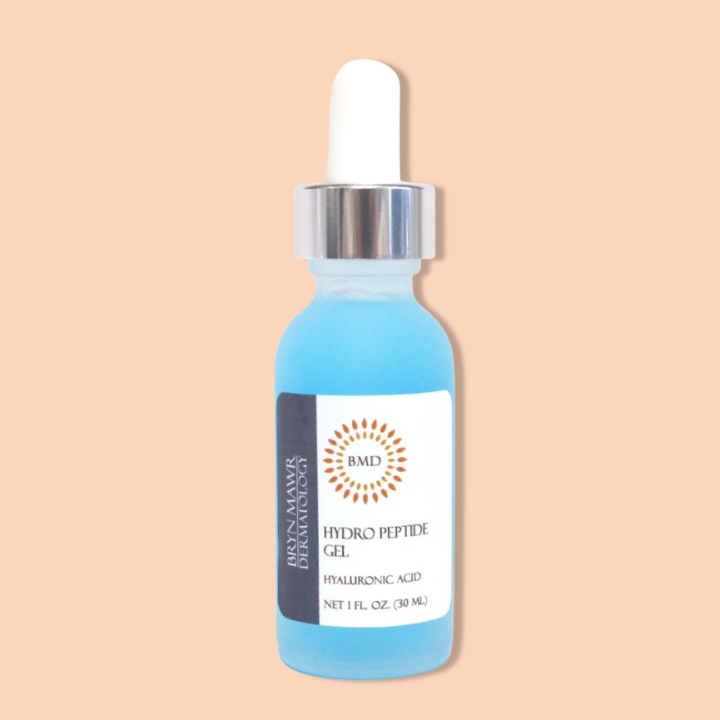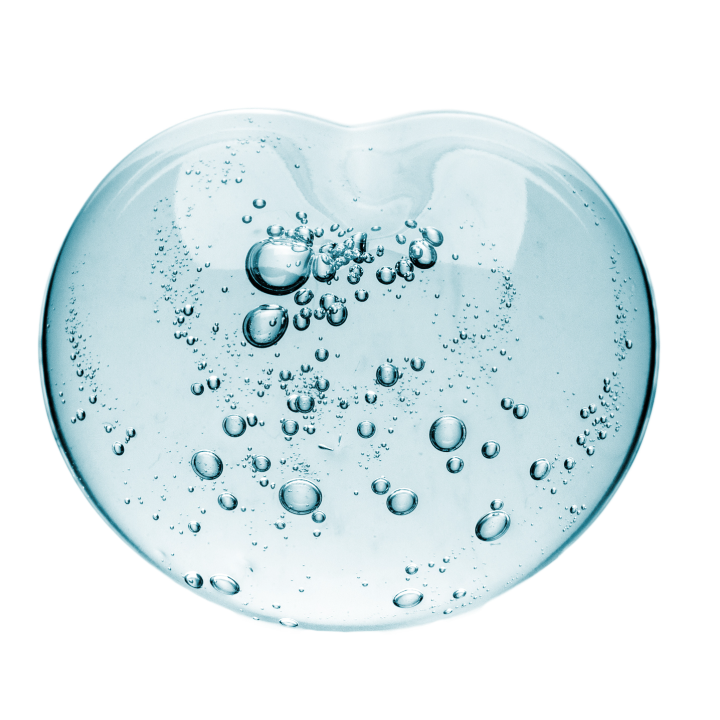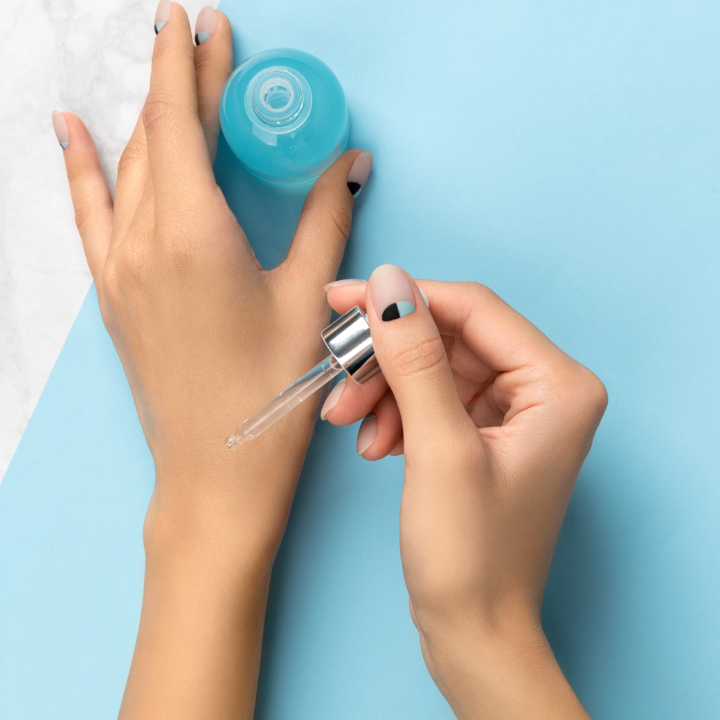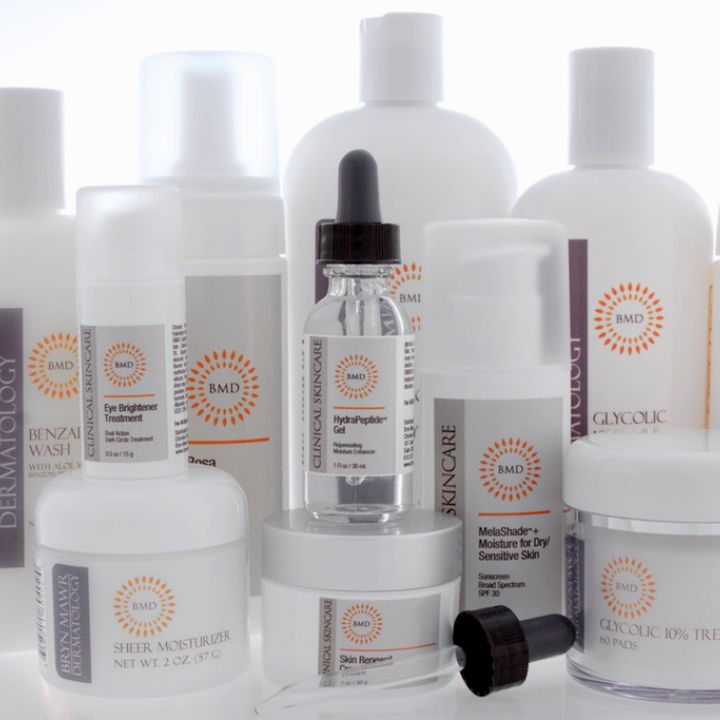 BMD Hydro Peptide Gel
Pickup available at Villanova
Usually ready in 24 hours
Villanova
Pickup available, usually ready in 24 hours
775 East Lancaster Ave
Suite 200
Villanova PA 19085
United States
+16105257800
Like a drink of water for your skin, this featherweight hydrator is perfect as a stand-alone moisturizer for those with oily-prone skin or as the ideal first step to seal in moisture for those who are extra thirsty.
DETAILS
This pure, nourishing serum formulated with fractionated hyaluronic acid penetrates deep within the dermis to draw moisture in and hold it there. A universal booster in any regimen, it provides all day moisture retention and skin barrier repair; with each drop skin appears brighter, firmer and rejuvenated. Moisturizers with hyaluronic acid are common in the marketplace, and for good reason, this highly desirable ingredient is proven to help the skin retain water, but does not clog pores or feel greasy. BMD's Hydro Peptide Gel recipe is unique in that it includes a healthy dose of Essential Mineral Complex which includes Zinc PCA and Copper PCA. These two elements serve to condition skin, help reduce excess oil buildup, AND give the product its cool blue color. Because it is a stand alone product, and not a heavyweight moisturizer, it can be used in combination with other clinical skin care with ease. It layers underneath sunscreens, night creams, and whichever anti-aging product best suits your skin. We recommend this soothing concoction as a base hydrator for all skin types. 
Benefits
Ensures continuous and optimal hydration

Improves skin tone

Non-irritating and non-comedogenic

Skin feels softer and looks more firm

Appropriate for all skin types

Simple to integrate into your regimen
There are two basic ways to integrate BMD Hydro Peptide Gel into your skincare regimen. The question is: are you oily, or are you dry? If your skin tends to be oily or acne-prone, and you'd prefer not to use a moisturizer at all, but want strong healthy skin, then you can use this product in lieu of a lotion. After you cleanse your face, in the AM and the PM, gently massage a thin layer of this gel onto your entire face and neck with your fingertips. It is non-irritating, so go right ahead and apply it to your eyelids. If you tend to have skin that gets inflamed, peely or cracked then you may want to use this product as a moisturizer-primer. After cleansing, apply a thin layer to your face and neck, wait for it to absorb, and then layer on your favorite moisturizer (with or without SPF).
What is hyaluronic acid (HA) you ask? It is technically your body's natural lubricant, cushion and hydrator. It is found primarily in your joints, eyes, and skin where its hydrophilic (water-loving) propensity allows it to draw in and retain water. As we age, as with most body structures, the quantity and quality of our body's stores of HA decreases. In your skin, this results in a dwindling ability to absorb and retain water which can be seen as a decrease in turgor (a measure of a cell's distension due to fluid content), resilience (ability to bounce back) and pliability (ability to stretch without breaking). In layman's terms this equals a decline in plumpness, strength and flexibility. Replacing the HA that your body can no longer produce at the rate of your youth can help counteract these visible signs of aging. The blue color of this product is due to its content of PCA Zinc and PCA Copper. These are amino acids that help regulate the production of sebum - your body's natural oil. Unlike other oil-regulating agents PCA Zinc and PCA Copper are also humectants - so while they can reduce the amount of oil you produce, which can help control acne breakouts and the subsequent inflammation, it is also hydrating.
Purified Water, Glycerin, Sodium PCA, Sodium Hyaluronate, Hydrolyzed Sodium Hyaluronate, Camellia Sinensis (White Tea) Extract, Palmitoyl Tripeptide-28, Ergothioneine, Glutathione, Zinc PCA, Copper PCA, Phenoxyethanol, Disodium EDTA.
Dr. Christine Stanko of Bryn Mawr Dermatology recommends following the simple sequence:

Cleanse. Treat. Moisturize. Protect. Repeat.
These steps will help resolve any issues your skin is experiencing and defend it against both the damaging assaults from outside your body - dirt, pollutants, UV exposure and pathogens like bacteria - and inside your body - pH imbalances, oil over/underproduction, overgrowth of your skin's natural flora, and the natural aging process.

BMD's Gentle Antioxidant cleanser is the perfect first step for skin that needs a little extra love. The cleanser will wash away impurities and help heal free radical damage. To treat skin, we recommend you follow up with BMD's Hydro Peptide Gel as soon as you pat your skin dry. This helps trap in moisture and strengthen your skin's protective barrier. If your skin tends towards being oily, then you may not need to moisturize in addition to the Hydro Peptide Gel, but if you notice that your skin feels tight you may want to layer on a moisturizer of your choosing. In the AM we suggest a SPF-moisturizer-combo like EltaMD Elements. This physical-only blocker adds a touch of natural tint to your skin in addition to luxurious moisture and, of course, serious sun protection. In the evening, a heavier night cream like BMD UltraLux is a perfect choice to spoil your skin all night long. It is a midweight formula that saturates skin in soothing humectants and repairs irritation with Niacinamide. Repeat this regimen in the morning, and before you go to bed. Of course, you can skip the sunscreen at night.